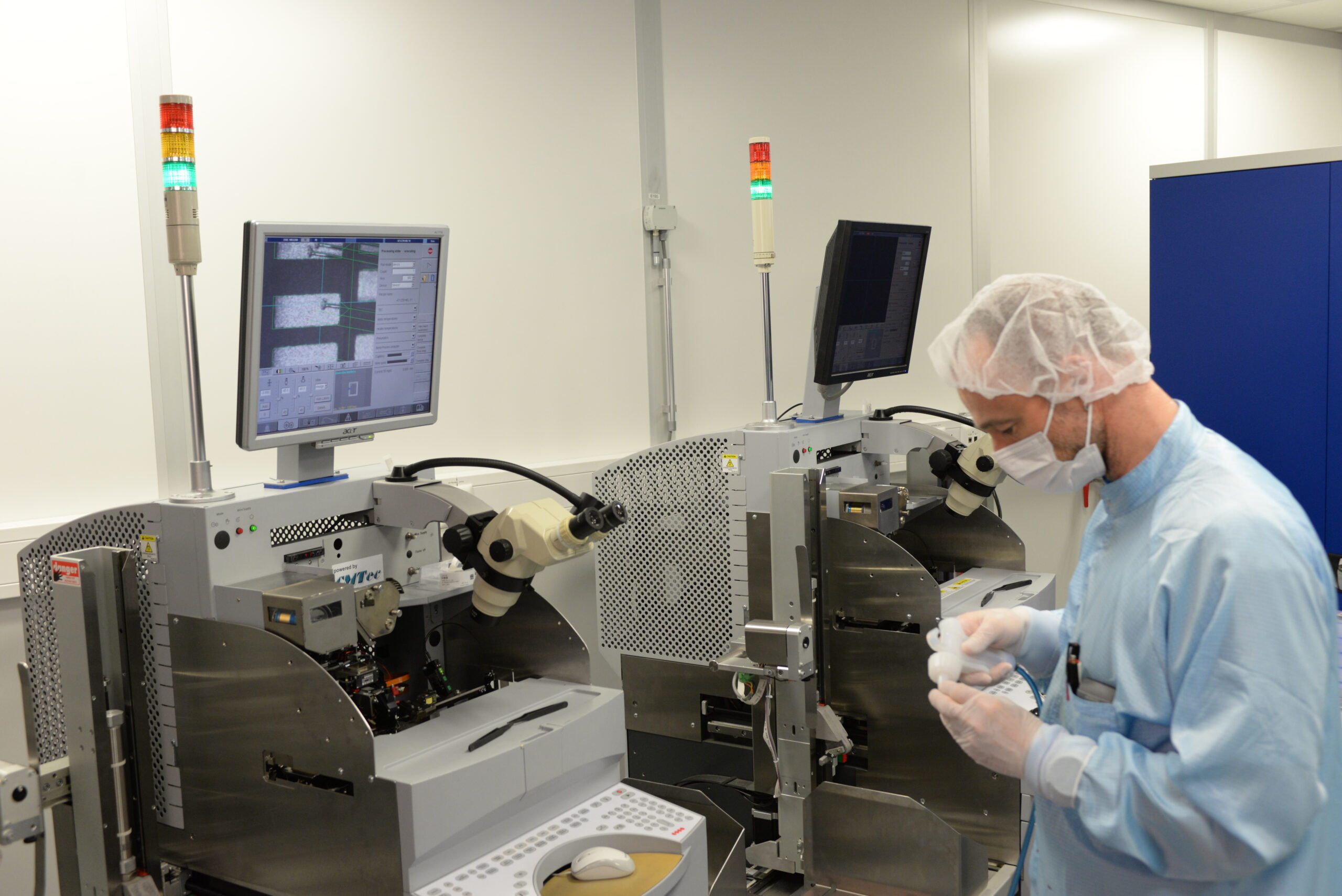 Wire bonding
Wire bonding refers to a bonding technique used in Chip On Board technology whereby a thin wire is used to bond the connections (pads) of an integrated circuit (IC) with the substrate. There is a range of different wire bonding methods, some of which use ultrasonic and some of which do not.
Normally, gold or aluminium wires are used for wire bonding, but in some cases copper or silver wires can also be used. While gold, copper or silver wire bonding is mainly done with ultrasonic ball-wedge technology, only ultrasonic wedge-wedge technology is used for aluminium wire bonding.
Both processes differ significantly from each other with regards to the integration density, throughput and cost. For example, for high-resolution camera sensors with over 1000 connections we would usually use ultrasonic gold wire ball-wedge bonding as it is very fast and allows complex looping geometries. When it comes to wire bonding, it is important to design the layout on the substrate such that the risk of wires short-circuiting is minimal and the process is as robust as possible. It is also vital to choose a suitable substrate coating to ensure a reliable bonding process. The choice of wire, bonding tool and, last but not least, the experience that the process engineer has in programming the processes are factors that significantly contribute to the success of a wire bonding process.
You can find out more about wire bonding in this PDF:
Technical properties
Fully automatic wire bonder
Processing from magazine to magazine
Suitable for the finest gold wire bonds
Wear-free and highly precise air-bearing bond head technology
Force-controlled bonding process
Real-time bonding process monitoring (NSD = Non-stick detection)
Wide selection of different loop geometries (gold wire bonds) Loop forms: Standard, flat, BGA loops, M loops, J loops, ultra low loops
Substrate types: PCB, flex PCB, sapphire, glass, aluminium and ceramic
3-zone regulated substrate heating
Specifications
Bonding methods: Thermosonic ball-wedge (gold wire)
Pitch down to 40µm
Number of bonds per device: >1000
Gold wire diameter: 17-50µm
Ultrasonic frequency: 128 kHz
Fixed electrode (EFO currents of up to 400 mA)
Positioning accuracy: +/-2.5 um @ 3 Sigma
UPH throughput: 17 wires/second (UPH depends on the material and process requirements)
Maximum bonding area: 52 mm x 70 mm (2″ x 2.7″)
Process zone temperature: 20°C to 300°C
Wire lengths: 1 to 6 mm
Applications
Wire bonding of chips for prototype through to serial production
Wire bonding of MEMS, camera chips, LEDs, sensors and actuators
Wire bonding of miniaturised systems, such as stacked chips (chip-on-chip, stacked dies) or multi-chip modules