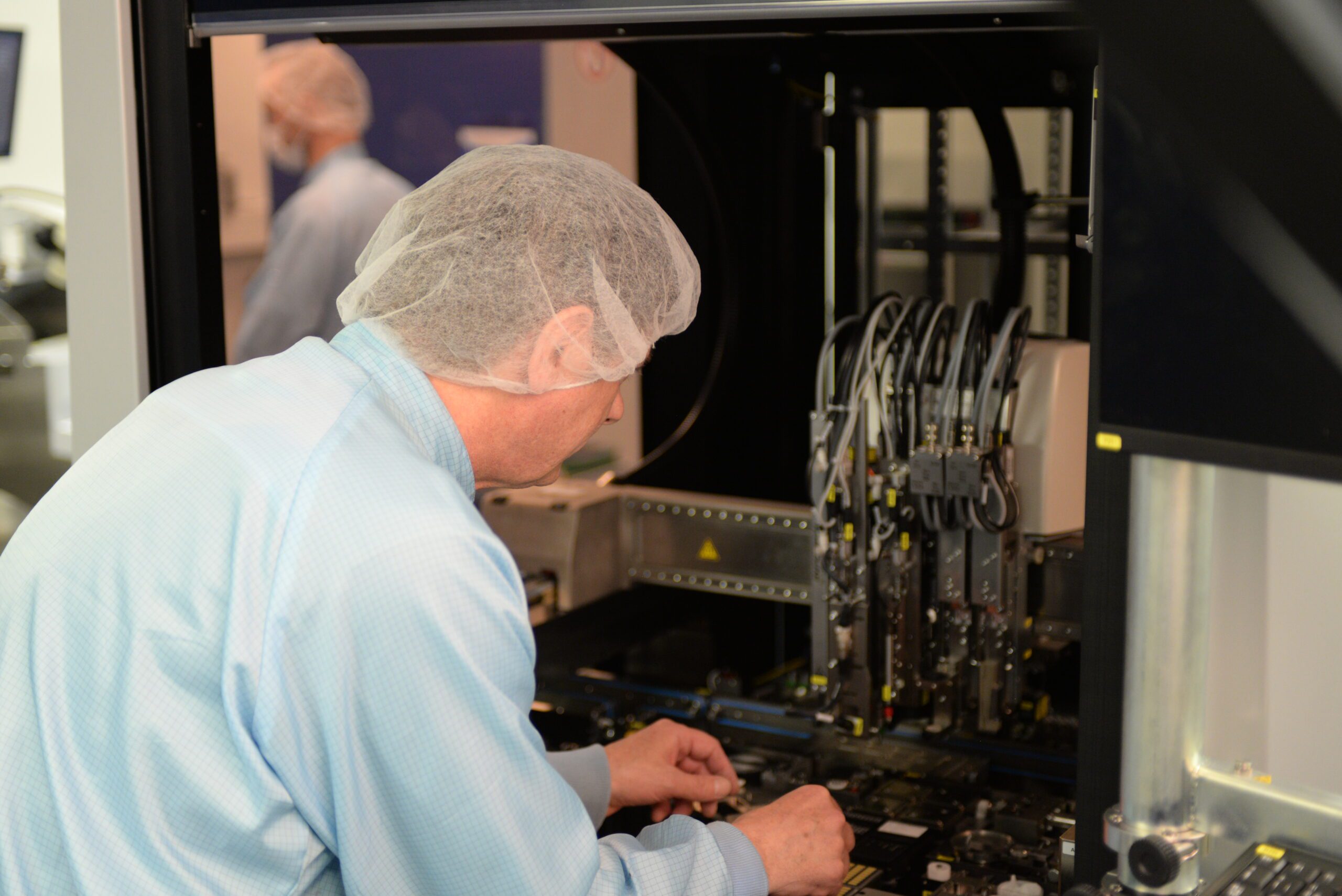 Die bonding
With die or chip bonding it is possible to place components such as integrated circuits, sensors, MEMS and optical sensors on a printed circuit board. During the die bonding, an electrically conductive or insulating adhesive is applied by means of dispensing, jet, stamping or dipping technology before the component is positioned with micrometre precision. During the final step the adhesive is thermally cured, either in an oven, by heat-sealing or under UV light.
Unlike with SMD technology, die bonding allows for the assembly of semiconductors that come directly from a wafer. This significantly reduces the time-to-market phase. This technology is ideal for manufacturing prototypes for pilot runs and for medium-sized production batches. Die bonding is unbeatable when it comes to building multi-chip modules. Die bonding offers a major advantage when working with high-power LED modules as the thermal coupling of the naked LED chips to the substrate is optimal.
Since 2022, Altatec has been the proud owner of a custom-made die bonder that is amongst the most flexible and modern in the world. Alongside the standard functions, it also offers new options that are tailored to our needs.
Technical properties
Force- or movement-controlled assembly
Flip chip (180° and 90°)
Freely programmable dispensing pattern with integrated volume control
Dispensing methods: Standard and precision time/pressure dispenser, screw dispenser, jet dispenser, stamp and flux dispensers
Processing of wafers with a diameter of up to 12", waffle packs, gel packs and SMD reels
Substrate and bond head heating for the in-situ soldering of BGAs
Suitable for assembling micromechanical components, such as optical components, reflectors and MEMS
Integrated UV light source for the in-situ curing of UV adhesives
Precise height measurement by means of tactile or contactless sensors
Specifications
Positioning accuracy: +/-10 um @ 3 Sigma
Component size for die attachment: 0.17-50mm
Component carrier: Wafers up to 12", waffle pack, gel pack, SMD reels
Substrates: Printed circuit boards of 300 x 200 mm or individual substrates in frames
Assembly processes: Standard chip assembly, flip chip assembly, in-situ soldering, thermocompression bonding, SMD assembly
Dispensing processes: Time/pressure, volumetric, flux, stamping, jet
Substrate types: PCB, flex PCB, sapphire, glass, aluminium, metal, silicon, MID, blue foil, etc.
Adhesive types: Epoxy adhesive, flux, optical curing adhesive
Applications
Assembly of chips precise to the micrometre, for prototype manufacturing through to mass production
Assembly of micromechanical and optical components such as lenses, reflectors, MEMS or optical-electronic systems
Thermocompression bonding
Assembly and in-situ UV curing of optical components
Miniaturised systems, such as stacked chips (chip-on-chip, stacked dies) or multi-chip modules