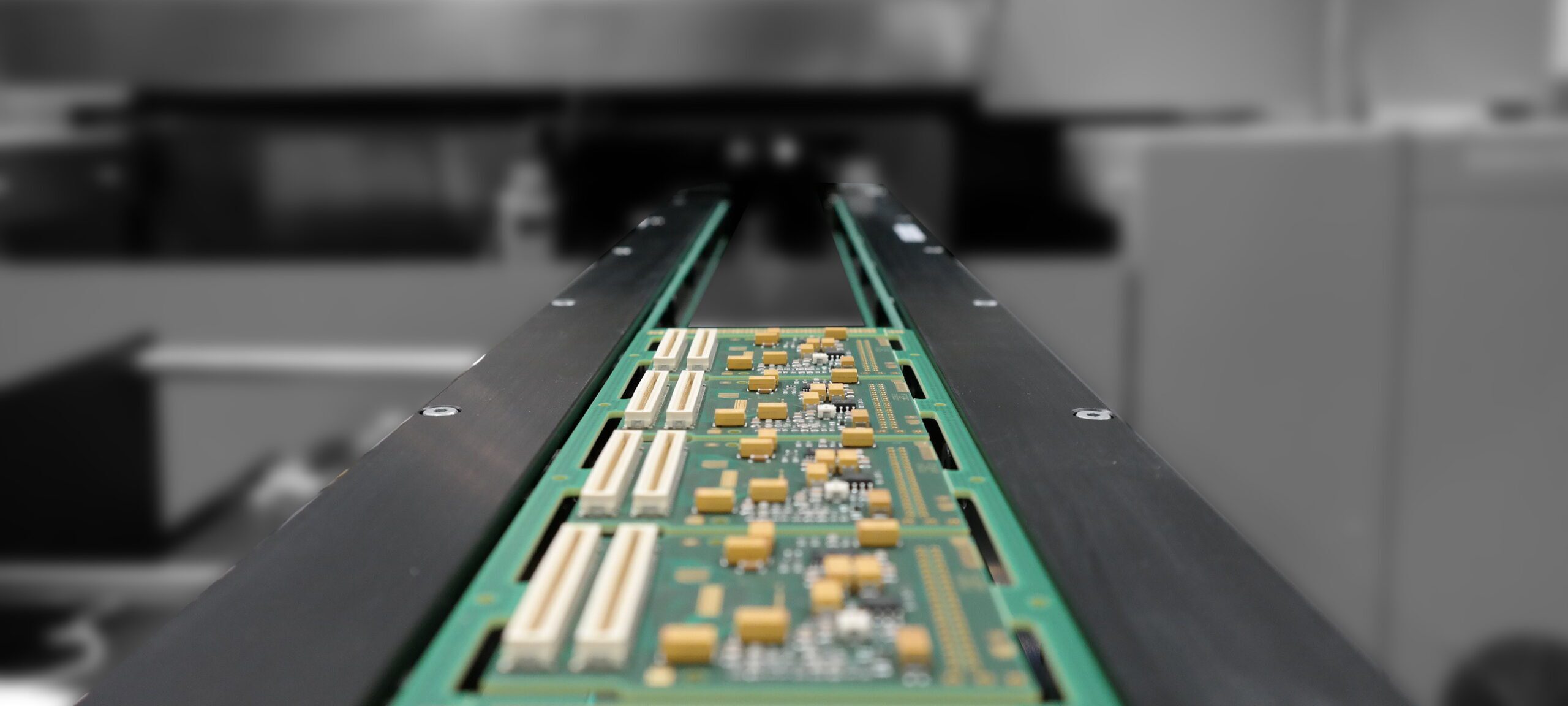 Surface mounting
SMD (surface mounted device) components have solderable connections that can be used for surface mounting and they can be fed into the machine in different packaging units (trays, reels, blisters, etc.).
When it comes to assembling electronic circuits, SMD components have the major advantage that they can be assembled by a machine at a high throughput. With SMD assembly lines, printed circuit boards can be manufactured almost 100% automatically: from the die-casting, to the assembly of the components, through to the soldering.
The trick is to combine the SMD process and COB process so that the quality and the effort required for the assembly are ideally balanced. For example, when manufacturing complex circuits, it may make sense to apply the solder paste on the SMD line but then carry out the actual assembly and soldering on a die bonder. This is known as a mixed assembly.
Technical properties of our SMD infrastructure
Fully automatic substrate feed line
Fully automatic stencil printing on an Ekra SERIO 4000
Automatic solder paste dispensing by the Altatec dispensing robot
Fully automatic assembly on a Fuji AIMEX IIS
Fully automatic soldering in a Rehm – VisionX-Series reflow oven
Fully automatic soldering on a hot plate for substrates that cannot be soldered in a reflow oven
Paste dispenser for substrates that cannot be printed
Automatic soldering in an ASSCON vapor phase oven
Specifications
Positioning accuracy: +/-30-50 um @ 3 Sigma (depending on the assembly head)
Panel size between 48 x 48 mm and 774 x 586 mm
Component size from 0201
Production capacity from 3000 to 26,000 components/h (depending on component size)
Component carrier/feed: Tape, stick and tray
Adhesive application: Jet or dispenser
Substrate: FR4, ceramic, flex, lead frame, other options available upon request
Applications
Assembly of:
Integrated circuits, sensors, actuators, camera chips, optical components and LED chips
Micromechanical components
Positioning of assembly elements precise to the micrometre
Applications (sectors, markets, examples)